Photo credit: Peter Forton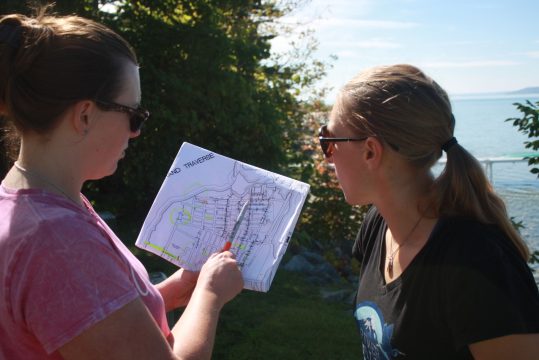 We Connect People to What Makes our Region Special—Clean Water
Grand Traverse Bay and all its waterways make our area truly unique and admired. Protecting and enhancing the quality of our watershed is critical to our region's future. The Watershed Center is the only organization solely dedicated to this mission.
Our small, but mighty group of scientists and policy experts are dedicated to the enduring health of the bay, continuously on the look-out for threats to our waters. Guided by research and data, we are leading the discussion on water protection and restoration in our region. We chart intentional steps to protect our watershed and monitor progress toward a healthy, clean Grand Traverse Bay. By getting our hands dirty with on-the-ground projects and engaging partners and volunteers to expand our reach, we are making a difference.
We believe by fostering a community-wide commitment to clean water we will all enjoy our waters for generations to come.
Through research, data collection, and strategic planning, we develop, implement, and evaluate science-based watershed protection plans to chart specific and intentional steps to protect the Grand Traverse Bay watershed.
We monitor water quality in a variety of locations – often through volunteer collaboration – to identify threats, gauge restoration progress, and track changes in water quality over time.
We manage on-the-ground projects throughout the watershed, each implementing proven methods of pollution prevention and/ or restoration. Our projects include establishing stormwater management and green infrastructure practices, installing riparian vegetation, naturalizing shorelines and streambanks, and restoring wetlands and hydrologic connectivity.
As advocates for clean water, you will find us following local issues and community developments, speaking up to educate the community on water issues, and standing up for the bay when local decisions may negatively impact the health of our waters.
We engage volunteers to encourage a stronger connection between water and people. Our volunteer citizen scientists and advocates help our small team of experts reach further and do more to help the watershed.
We also strive to convene and collaborate with stakeholders to meet the goals outlined in the watershed protection plans. We believe when we work together we accomplish more, secure greater amounts of funding, and reinforce our shared vision of a healthy, prospering environment and community.
Elk River Chain of Lakes Watershed Implementation Team (ERCOL-WPIT): Organized by The Watershed Center and Tip of the Mitt Watershed Council, ERCOL-WPIT engages lake associations, local governments, area nonprofits, and interested citizens in collaborative efforts to protect and preserve water quality throughout the Elk River Chain of Lakes watershed.
Boardman-Ottaway River Network: Organized by The Watershed Center, Conservation Resource Alliance, Traverse City Downtown Development Authority, Grand Traverse Conservation District, and the Grand Traverse Band of Ottawa and Chippewa Indians, the Boardman-Ottaway River Network is dedicated to the preservation, protection, restoration, and sustainable use of the Boardman-Ottaway River.
Community Development Coalition of Northwest Michigan: Organized by the Grand Traverse Regional Community Foundation, the Community Development Coalition empowers and engages cross-sector leadership to set collective priorities in the areas of economic, societal, and environmental improvements and to collaboratively drive favorable outcomes for the communities in our region.
Environmental Partnership: Organized in response to the COVID-19 pandemic, the Environmental Partnership showcases the collaborative protection, restoration, and enhancement of our land and water that environmental organizations have been accomplishing together for decades. This partnership blends expertise with education, advocacy, collaboration, and solution- orientated actions that encourage and demonstrate best practices.
Lower Boardman River Unified Plan: Organized by the Traverse City Downtown Development Authority, the Lower Boardman River Unified Plan includes a collective vision for the Lower Boardman River and describes the land use policy recommendations, best practices for development, and physical improvement plans for achieving that vision.
We are a local resource for citizens, municipalities, and community entities to gain knowledge, access support, get involved, and make educated, water-friendly decisions.
WE PROTECT
THE WATER
YOU LOVE.
Photo credit: Courtney Greening