Photo credit: Lynn Huffman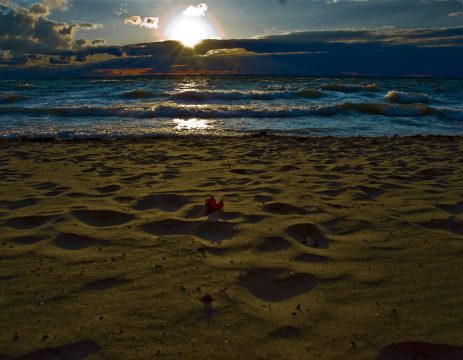 Photo credit: Katherine Berst
Protect the water you love.
Protecting and enhancing the quality of Grand Traverse Bay and all its waterways is critical to our region's future. The Watershed Center is the only organization solely dedicated to this mission. We rely on grants to fund our on-the-ground projects and donations to sustain all other mission-driven efforts.
Your gift to The Watershed Center supports science-based decision making, vigilant monitoring of the health of our aquatic systems, and informed policy development to protect and restore the water you love.
Bay Guardians are our dedicated contributors that help support our efforts throughout the entire year. Your monthly, quarterly, semi-annual, or annual gifts help us cut costs and save resources, giving you a larger return on your investment. Consider becoming a Bay Guardian that protects clean water all year long by sending a check or making an online donation.
If you are shopping from home, please consider adding us as an Amazon Smile partner. It costs nothing to you and is an ongoing way to help The Watershed Center.
Did you know you can double – sometimes even triple – your gift using your employer's matching gift program? View a list of companies that offer matching gift programs or ask your employer for details on their potential program. If you are a Rotarian, the Rotary Endowment at the Grand Traverse Regional Community Foundation will match up to $250 of your personal gift.
You can gift appreciated stocks, bonds, IRAs, or mutual funds you have held for more than one year. You will pay no capital gains tax on the transaction and are able to clean a federal income tax charitable deduction for the full, appreciated value of the securities. It is important you notify us in advance of any gift for proper acknowledgement and receipt. Contact Michelle at mhandke@gtbay.org or 231.935.1514 x4 with the information on this form.
Sponsorship Opportunities
Interested in financially supporting a specific program or event at The Watershed Center? We are currently seeking sponsors for our Adopt-A-Stream program.
To honor the memory of a loved one or pay tribute to someone who values clean water, simply indicate whom you wish to memorialize or honor on your check or make on online contribution. When we receive your gift, we will notify the individual or family that a gift was made in their honor or memory.
Legacy giving is a way to ensure your dedication to protecting Grand Traverse Bay and its surrounding waterways continues even after your lifetime. Legacy gifts include naming The Watershed Center in wills and living trusts, life insurance, endowment gifts, retirement plans, charitable gift annuities, real estate, memorials and tributes, and many others. Legacy giving connotes thoughtful preparation and planning with professional advice; to start the conversation contact Michelle at mhandke@gtbay.org or 231.935.1514 x4.
Being a good corporate citizen comes easily to many businesses in the Grand Traverse Bay watershed. From encouraging employees to volunteer their time and talent to donating a portion of their sales, we are fortunate to be the beneficiary of the engagement of the following businesses:
If you have any questions, please contact our Director of Philanthropy Michelle Handke by phone at 231.935.1514 x4 or email at mhandke@gtbay.org.
We protect the
water you love.