Monitoring the effects of road salts on nearby creeks
Each year, over 20 million metric tons of road salts are applied to roads across the United States. The use of road salts and other de-icing agents is particularly prevalent in the Midwest and Northeast where winters are long, snowfall is abundant, and the pressure to maintain clear and safe roads is widespread.
Road de-icing agents often contain salts such as sodium chloride, magnesium chloride, potassium chloride, and calcium chloride that break apart when they dissolve in water. This human-induced input of dissolved salts into surface water and groundwater is a major driver of increased salinity in freshwater systems, especially urban streams like Kids Creek.
Chloride is known to have adverse and lethal effects on fish, invertebrates, and plants and may impact aquatic populations and food web dynamics. Further, high chloride concentrations in freshwater lakes can result in physical changes including annual lake mixing processes. To protect freshwater from salinization, chloride thresholds have been established by state and federal agencies. Even with these guidelines in place, it is predicted that many freshwater lakes with even low to moderate surrounding impervious surfaces will have chloride levels exceeding federal thresholds in the next 50 years if trends continue (article).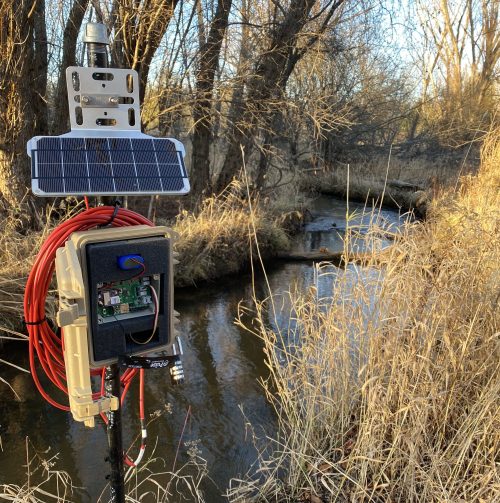 Project Status: In Progress
2 Mayfly monitoring stations
Hand-held specific conductance monitoring probes
Trout Unlimited
Volunteers
Trout Unlimited

Paddle Antrim
Resource managers speculate that elevated levels of chloride could be affecting aquatic life in Kids Creek and adding to the creek's impairment. The Watershed Center is partnering with Trout Unlimited to monitor chloride in Kids Creek using two Mayfly Stations on the main branch of the creek to monitor stage, specific conductance, and temperature in real time. Specific conductance measures the ability of a liquid to pass an electrical current and is impacted by charged ions within a solution. When road salts containing chloride dissolve in water, the chloride ion is charged; therefore, specific conductance is a surrogate measurement for chloride in freshwater.
View real time data:
Preliminary data shows an increase in specific conductance in Kids Creek during winter months. These results have prompted the Michigan Department of Environment, Great Lakes and Energy to conduct a comprehensive chloride monitoring study on surface water and groundwater in the Kids Creek watershed. Monitoring will consist of monthly chloride sampling and other measurement along with snowmelt response sampling in the winter months.
Preliminary findings of increased specific conductance in Kids Creek encouraged The Watershed Center to evaluate whether elevated chloride levels are found throughout the entire Grand Traverse Bay watershed. While real-time monitoring stations are expensive and require a certain level of expertise to operate, specific conductance monitoring probes are quick, low cost, easy to use, and can be deployed in multiple locations. Using these probes, trained volunteers began collecting reliable baseline data from numerous locations in the Elk River Chain of Lakes in 2023. This will give us a preliminary look into the potential impacts of road salt in the watershed.
Volunteer Monitoring Program
By engaging volunteers and sharing the information collected, this project will bring awareness to the impact of road salting practices on lakes and streams in the Great Lakes region. Potential future phases of this effort include additional volunteer-led road salt monitoring in other subwatersheds and de-icing best management practices outreach to communities and municipal staff and elected officials
We protect the water you love.