for property owners in the Elk River Chain of Lakes watershed.
Stewardship
Elk River Chain of Lakes Watershed
Community
Stewardship
Elk River Chain of Lakes Watershed
Community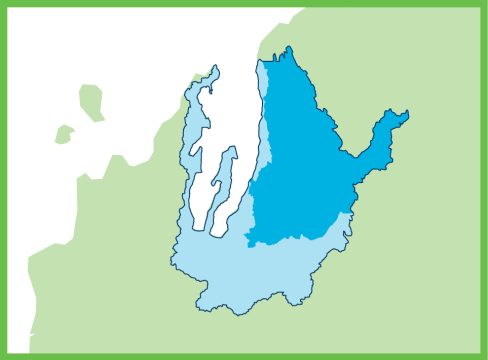 Our water. Our responsibility.
This resource guide was created to provide relevant, easily accessible information to waterfront property owners so they are more aware of issues and best practices related to the lake or river on which they live, as well as their connection to the larger watershed. 
Community conversations helped identify the top issues all waterfront property owners should be aware of so they are informed of the issues and know what actions they can take to do their part to keep our lakes and streams clean and healthy for everyone.
Riparian buffers are an area of permanent vegetation immediately next to a waterbody. Buffers prevent shoreline erosion, support wildlife habitat and food sources, and slow and infiltrate stormwater. Riparian buffers should be planted with native plants, grasses, shrubs, and trees as they are well-suited to the area's soil type and climate.
Resources
Go Beyond Beauty
Greenbelt Gardens
Plant a Tree for Water Quality
Stormwater runoff results when rain falls or snow melts and the water flows over the surface of the land. The flow of this stormwater often dislodges and carriers pollutants such as oil, grease, gas, toxins, and bacteria, as well as sediment particles and the pollutants that are attached. Impervious surfaces are areas that cannot effectively absorb or infiltrate rainfall or snowmelt, leading to increased stormwater runoff and associated pollutants.
Resources
Stormwater Impacts and Solutions
permits & zoning requirements
Nearly all villages and townships have zoning ordinances that have specific requirements for how homeowners use and modify their property. Before taking an action that alters use or features of your property, homeowners should determine if they are allowed or if a permit is required. Zoning administrators are the most knowledgeable regarding ordinance provisions. Please visit your local municipal offices and attend meetings of interest.
Resources
Acme Township
Village of Bellaire
Village of Central Lake
Village of Elk Rapids
Village of Ellsworth
Village of Kalkaska
Village of Mancelona
Banks Township
Central Lake
Chestonia Township
Clearwater Township
Cold Springs Township
Custer Township
Echo Township
Elk Rapids Township
Elmira Township
Forest Home Township
Helena Township
Jordan Township
Kalkaska Township
Kearney Township
Mancelona Township
Marian Township
Milton Township
Norwood Township
South Arm Township
Star Township
Rapid River Township
Torch Lake Township
Warner Township
Whitewater Township
Our water.
Our responsibility.