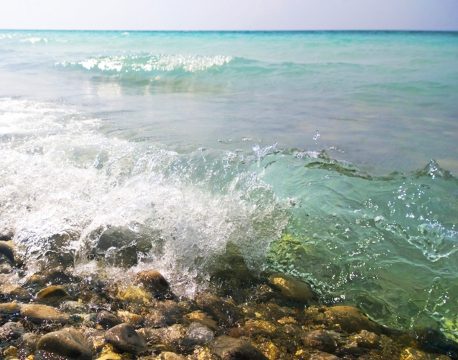 Join us in our mission to safeguard the beautiful waters of Grand Traverse Bay and our inland lakes and streams for all to enjoy. With a community-wide commitment to clean water, we will all enjoy our waters for generations to come.
Help The Watershed Center make a difference by giving your time or talents. For more information or to discuss how you can be involved, contact Grand Traverse Bay WATERKEEPER® Heather Smith at hsmith@gtbay.org.
Adopt-A-Stream: Assemble a team of volunteers — families, schools, neighborhood, office teams — to monitor water quality within the watershed twice a year. Stream sponsorships are also available.
Beach Clean-Ups: Help remove trash and debris along our beaches, shorelines, and streambanks.
Watershed Warrior: Become a citizen advocate by speaking up to oppose threats to water quality in your community and to support local decisions and efforts that protect water quality.
General office tasks: Put your computer/office skills to use while helping our team with tasks such as data entry, mailing preparations, or simple organizing.
Connect with our waters and our mission through our events.
Beach Clean Up – Saturday, April 22, 2023: Join us this Earth Day for another Great Lakes CleanUp event and see our autonomous beach cleaning robot in action.
Advocacy Academy Boot Camp – Saturday, April 15, 2023: Led by experienced advocates, this one-day boot camp will teach you how to engage and represent on the local level.
On Tap with TWC: Join us for a happy hour gathering where supporters and friends of TWC come together to talk with staff and meet others with similar interests.

Wednesday March 1, 2023, 4-6pm at Silver Spruce Brewing
Tuesday, June 13, 2023, 4-6pm at The Dam Shop
Wednesday, November 1, 2023, 4-6pm at Brengman Brothers

Fly Rod Raffle – drawing Wednesday, August 9, 2023: We've teamed up with three talented, local artists to offer a unique opportunity to protect our watershed and have a chance to win one of three hand-crafted prizes.
Freshwater Summit – Friday, October 27, 2023: Join environmental professionals, citizens, and businesses to discuss the latest research, projects, and initiatives that impacts the Great Lakes and Grand Traverse Bay regions.
Swim for Grand Traverse Bay – Saturday, August 10, 2024: Celebrate clean, healthy water in Grand Traverse Bay with a unique, open water swim event to benefit The Watershed Center.
We connect people to
what makes our region
special – clean water.