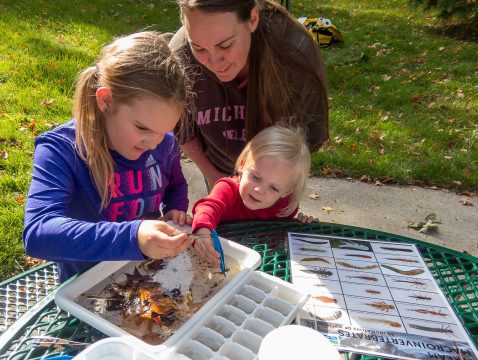 Launched in 2003, Adopt-A-Stream is The Watershed Center's bi-annual macroinvertebrate and habitat assessment program. Adopt-A-Stream provides high quality, reputable data that is used in management and restoration decisions by local and state resource professionals. Data is used to flag issues, evaluate stream segments ripe for restoration, assess restoration efforts, establish water quality baselines, and monitor for invasive invertebrates that may cause ecological damage.
Additionally, Adopt-A-Stream helps cultivate a sense of freshwater stewardship and better understanding of water quality issues for families, groups, and individuals involved in the program. Adopt-A-Stream provides the opportunity for community members to get involved and feel invested so we are all able to enjoy healthy, clean water for recreation, tourism, and simple natural beauty.
Adopt-A-Stream is perfect for families, friends, neighborhood groups, employee clubs – just about anyone who is interested in exploring our area streams and helping collect valuable water quality data at the same time. 
Adopt-A-Stream Data

Resources
Work with our staff to find a stream sampling location
Assemble a team yourself or join one of our current teams

Pledge to monitor your stream once during June and October

Designate a team leader, who will receive training from the Watershed Center for sampling benthic macroinvertebrates. That's fancy scientific terminology for "aquatic insects," which can signify a stream's health
Recognition on The Watershed Center's website and in newsletters
Fun, hands-on, place-based education
Pride of ownership in our water quality
Attend our New Volunteer Orientation and Training held each fall prior to sampling – no commitment necessary, just come and learn about the program

Email Heather at hsmith@gtbay.org or call 231.935.1514 x3 to learn more
Become an Adopt-A-Stream Sponsor
All of this is made possible by the generous financial support of the businesses, organizations, and individuals who sponsor Adopt-A-Stream.
Interested in becoming an Adopt-A-Stream Sponsor? Find all the sponsorship details here or contact Michelle at mhandke@gtbay.org or 231.935.1514 x4 to learn more.
Thank You to Our Stream Sponsors!
Captain's Quarters

The Donaldson Family

Elk-Skegemog Lakes Association

Hazelnut Kids

The Northern Angler

Rotary Camps & Services Water Committee
We connect people to what makes
our region special – clean water.