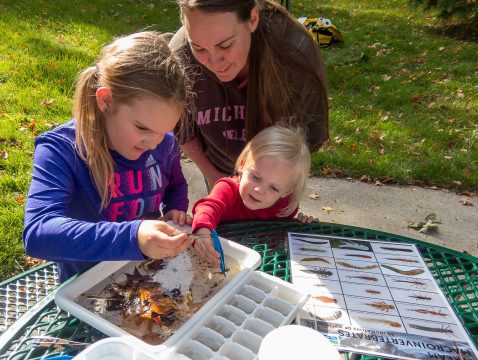 Adopt-A-Stream is an exciting, community-led effort to track water quality throughout the Grand Traverse Bay watershed.
Adopt-A-Stream is perfect for families, friends, neighborhood groups, employee clubs – just about anyone who is interested in exploring our area streams and helping collect valuable water quality data at the same time. 
Adopt-A-Stream Data

Resources
Work with our staff to find a stream sampling location
Assemble a team yourself or join one of our current teams

Pledge to monitor your stream once during June and October

Designate a team leader, who will receive training from the Watershed Center for sampling benthic macroinvertebrates. That's fancy scientific terminology for "aquatic insects," which can signify a stream's health
Recognition on The Watershed Center's website and in newsletters
Fun, hands-on, place-based education
Pride of ownership in our water quality
Attend our New Volunteer Orientation and Training held each fall prior to sampling – no commitment necessary, just come and learn about the program

Email Heather at hsmith@gtbay.org or call 231.935.1514 x3 to learn more
Become an Adopt-A-Stream Sponsor
Businesses, organizations, and individuals can become Adopt-A-Stream River or Stream Sponsors for an annual donation. Perks include:
Name and link on web site

Publicity in The Watershed Center's e-newsletter
Publicity on The Watershed Center's Facebook page
Unique opportunity to showcase your company's or organization's commitment to and investment in local water quality
Interested in becoming an Adopt-A-Stream Sponsor? Find all the sponsorship details here!
Thank You to Our Stream Sponsors!
Captain's Quarters

The Donaldson Family

Elk-Skegemog Lakes Association

Hazelnut Kids

Rotary Camps & Services Water Committee
We connect people to what makes
our region special – clean water.